Lake District Holiday Cottage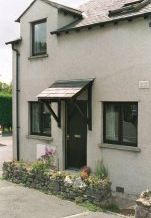 Hi, we are Jim & Wendy Wilding and we'd like to share the pleasures of the Lake District with you! The Lake District is such a beautiful place that we decided to rent our cottage to others that wish to visit the Lake District National Park for a short break or holiday.
The cottage is a delightful three bedroomed holiday cottage, that provides a superb escape to the Lakes.
The cottage is situated in the village of Holme, with easy access to the M6, the cottage is ideally situated for visiting the Lake District National Park, Yorkshire Dales and the Silverdale & Arnside scenic coastline.
The Kendal-Lancaster canal runs alongside the village offering peaceful canal walks direct from the door, and Farleton Fell and Hutton Roof Crags with their Limestone pavements are within walking distance.
The immediate area offers facilities for golf, fishing, riding, bird watching (Leighton Moss RSPB), mountain biking, country houses to visit and excellent walking.
The Lake District National Park provides a huge wealth of attractions that keep vistors coming back year upon year.