Lake District Cottage Visitors Book
See what our past visitors think of the cottage. We have many visitors that return year after year - we hope we can include you as one of them !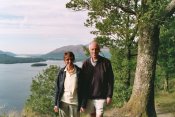 "What a relaxing break - great walks, great coffee shops ! Fantastic."
Janet Weader, Liverpool
"Regretfully leaving after being fully chilled out - peace, quiet and beautiful cottage."
Matt Wilkins, Solihull
"Had a great stay - good place to explore from."
Sonia Nolta, Germany